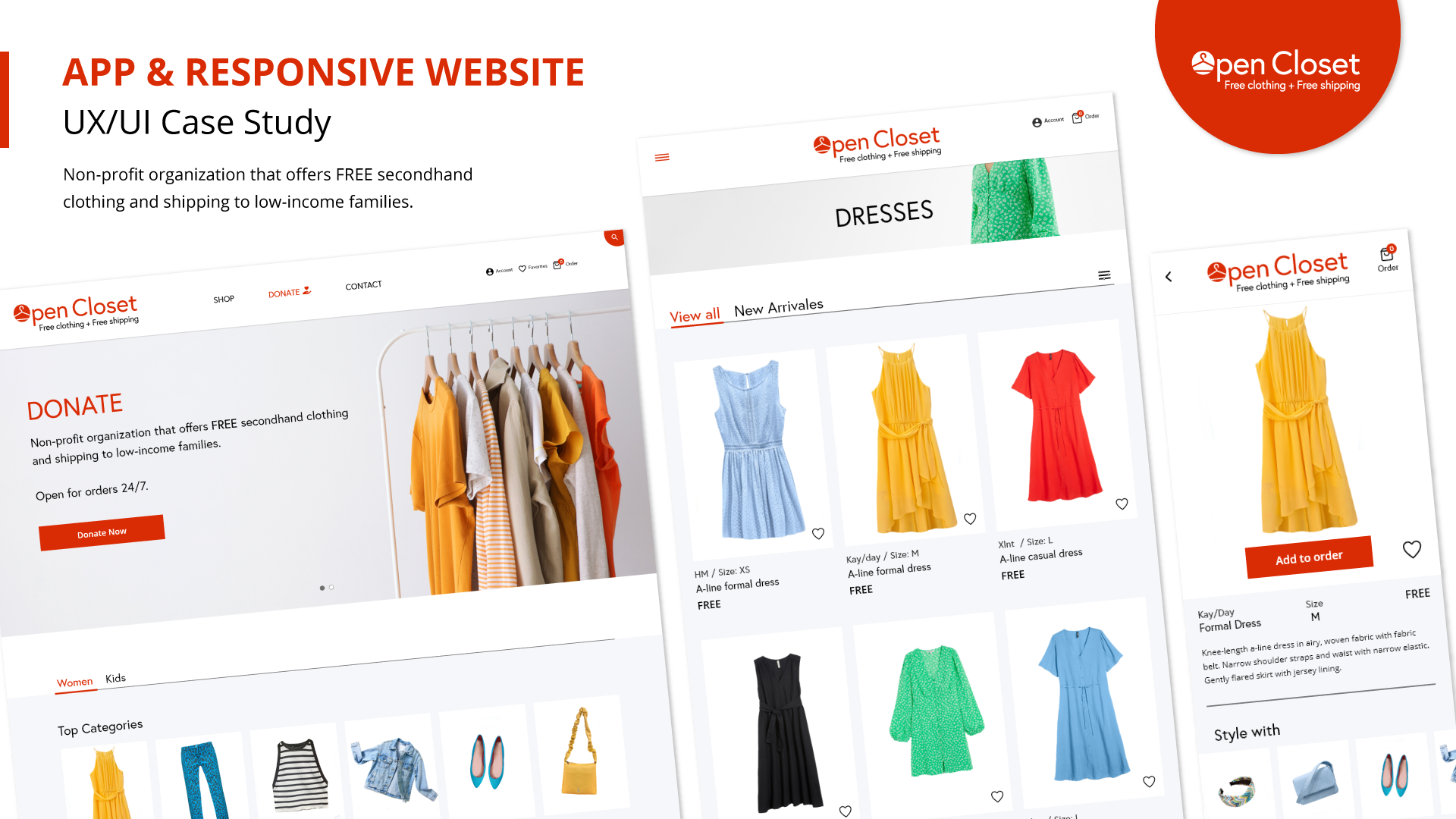 The product:
Open Closet is a nonprofit organization (social good) that wants to offer FREE secondhand clothing and shipping to low-income families. The organization needs an ordering app so that users can easily order clothes. The target users are young adults with limited income who have a hard time finding clothing at their local nonprofit clothing locations.
Project duration:
March 2023 to April 2023
My role:
UX designer leading the app and responsive website design from conception to delivery.
My responsibilities:
Conducting interviews, paper and digital wireframing, low and high-fidelity prototyping, conducting usability studies, accounting for accessibility, and iterating on designs and responsive design.
Tools:
Adobe Xd, Photoshop and Illustrator.
Finding free secondhand clothing at nonprofit organizations can be very challenging and hard to find with limited opening hours. Open Closet has identified that a lot of people will benefit from having the opportunity to order free clothing 24/7.
Design an app that will help people with limited income to easily find and order free secondhand clothes.
UnderstandING the User
User research, empathy map, persona, site map and user pain points
User research pain points

Unorganized clothes
Users get frustrated when they look through unorganized clothes without finding what they are looking for.

Opening hours
Users are having a hard time getting to nonprofit clothing locations within the opening hours.

Transportation
Users get frustrated trying to find transportation so they can go and look for clothes at nonprofit locations.
An audit of a few competitors' products provided direction on gaps and opportunities to address with the Open Closet app. One of the finds where none of the competitors offered free clothing and shipping.


Local nonprofit
(Direct)
+ Offers free clothes
– Have to go to the location
– Limited opening hours

Thredup
(Indirect)
+ Online ordering
+ Can swap clothes and get credit
– Clothing and shipping cost money 

Swap
(Indirect)
+ Online ordering
+ Offer clothes for the whole family
– Cost money
STARTING THE DESIGN
Wireframes, low-fidelity prototype & high-fidelity prototype

After ideating and drafting some paper wireframes, I created the initial designs for the Open Closet app. These designs focused on easy access to clothing categories, navigation, and a simple ordering function.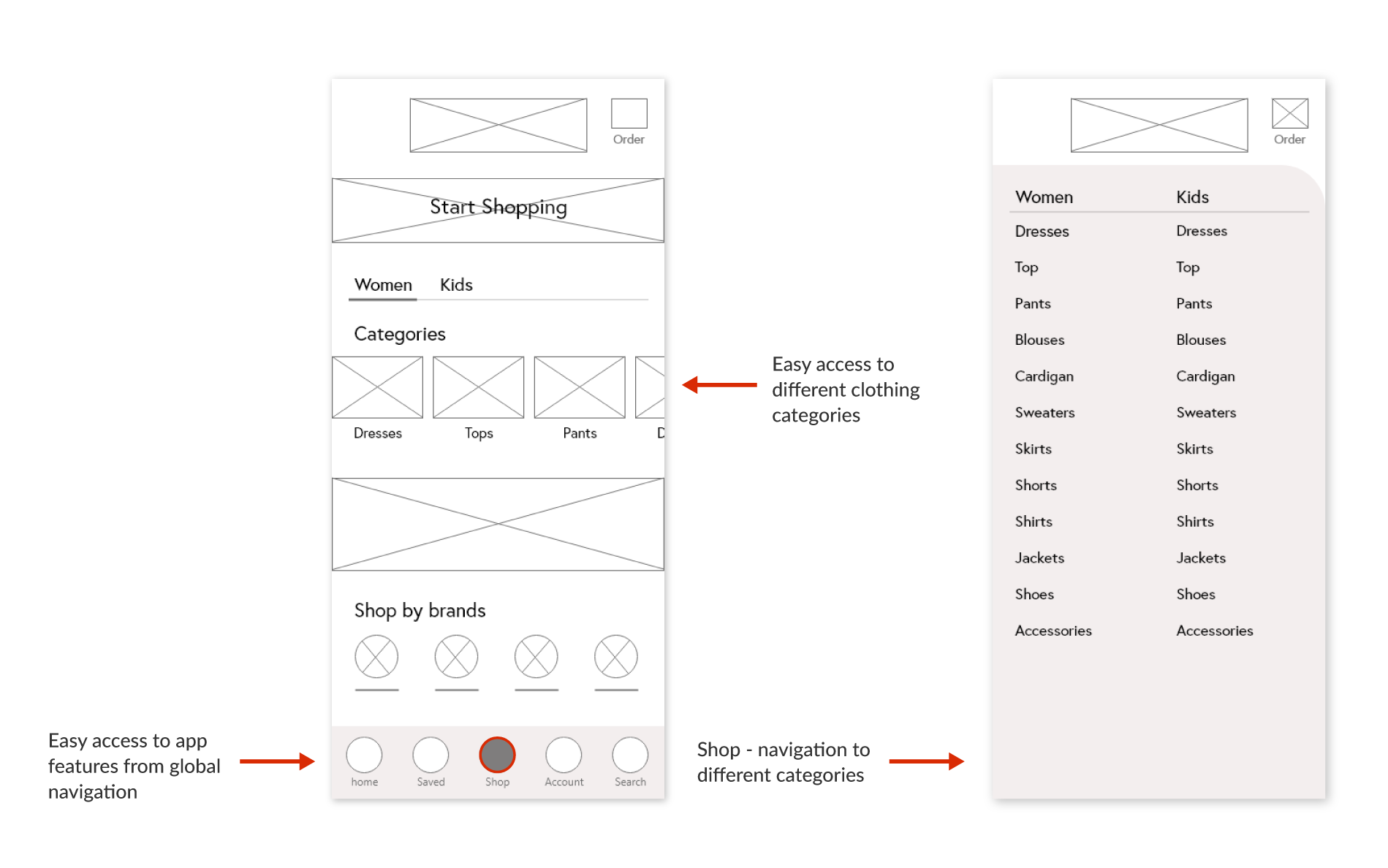 To prepare for usability testing, I created a low-fidelity prototype that connected the user flow of ordering an item.

Round findings
Clothing sizes – Users preferred to know the size of the item before clicking on each item.
Validation on items added to the cart – Users need validation that an item is added to the order.
Gets redirected to the order page after adding an item – The user needs to stay on the same page after adding an item.
The high-fidelity prototype followed the same user flow as the low-fidelity prototype, including design changes made after the usability study.
High-fidelity Mockups – Dedicated Mobile App

High-fidelity Mockups – Responsive Website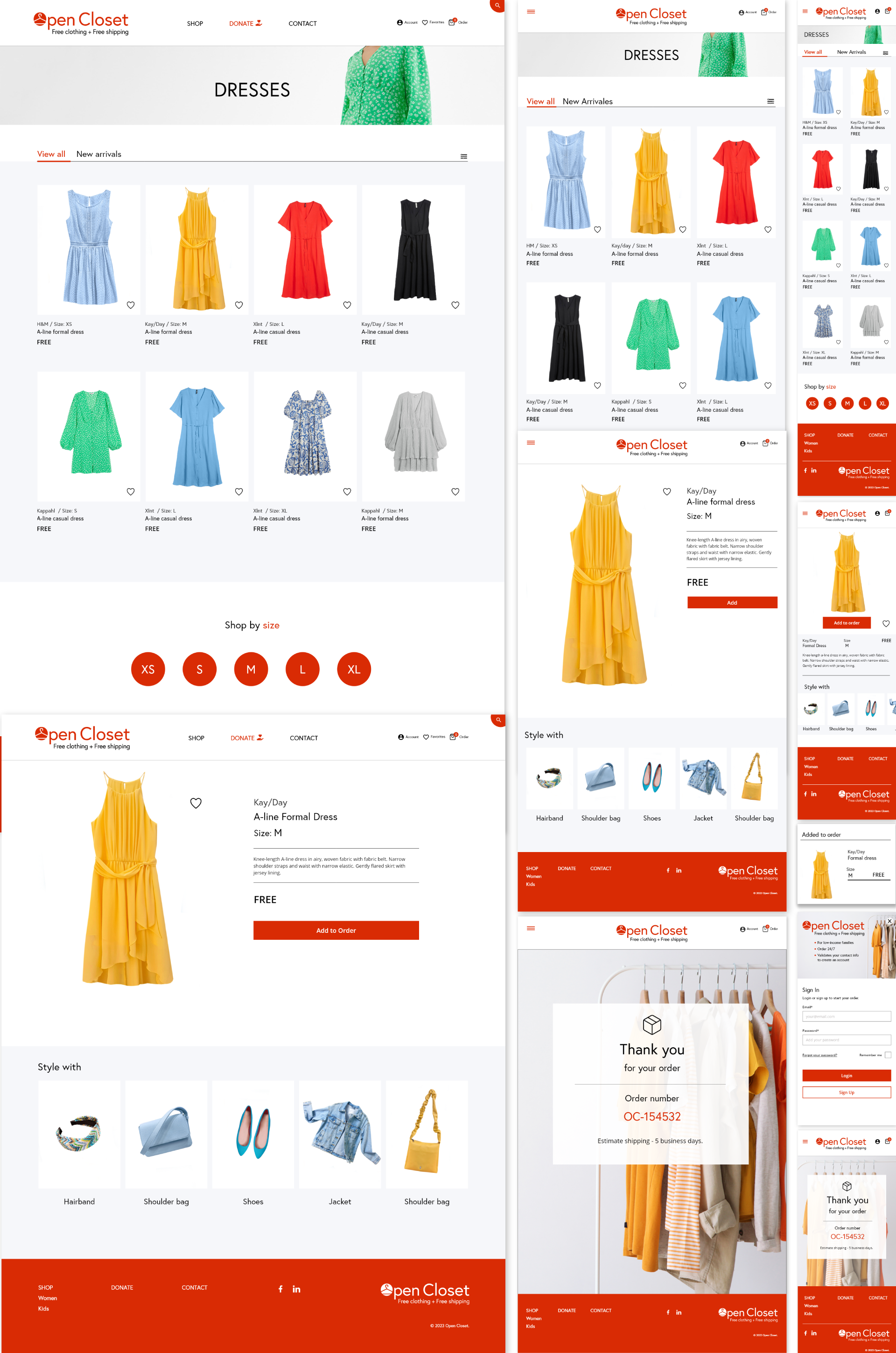 Accessibility considerations

Color contrast (WCAG) was used to ensure that content is accessible to everyone.

Headings with different sizes were added for a clear visual hierarchy.

Links with both text and icons to make navigation easier.
Impact:
Users shared that the app made looking for clothes a much more enjoyable and easier task. One quote from a user's feedback was: "The Open Closet app gives me the excitement I always had when shopping for clothes, and I have never felt like this when looking for free clothes at a nonprofit before." The app also has the potential to reach a lot more users.
What I learned:
After researching I was surprised to find out that no one offers this service online. I learned that even though the problem I was trying to solve was a big one, diligently going through each step of the design process and aligning with specific user needs helped me come up with solutions that were both feasible and useful.