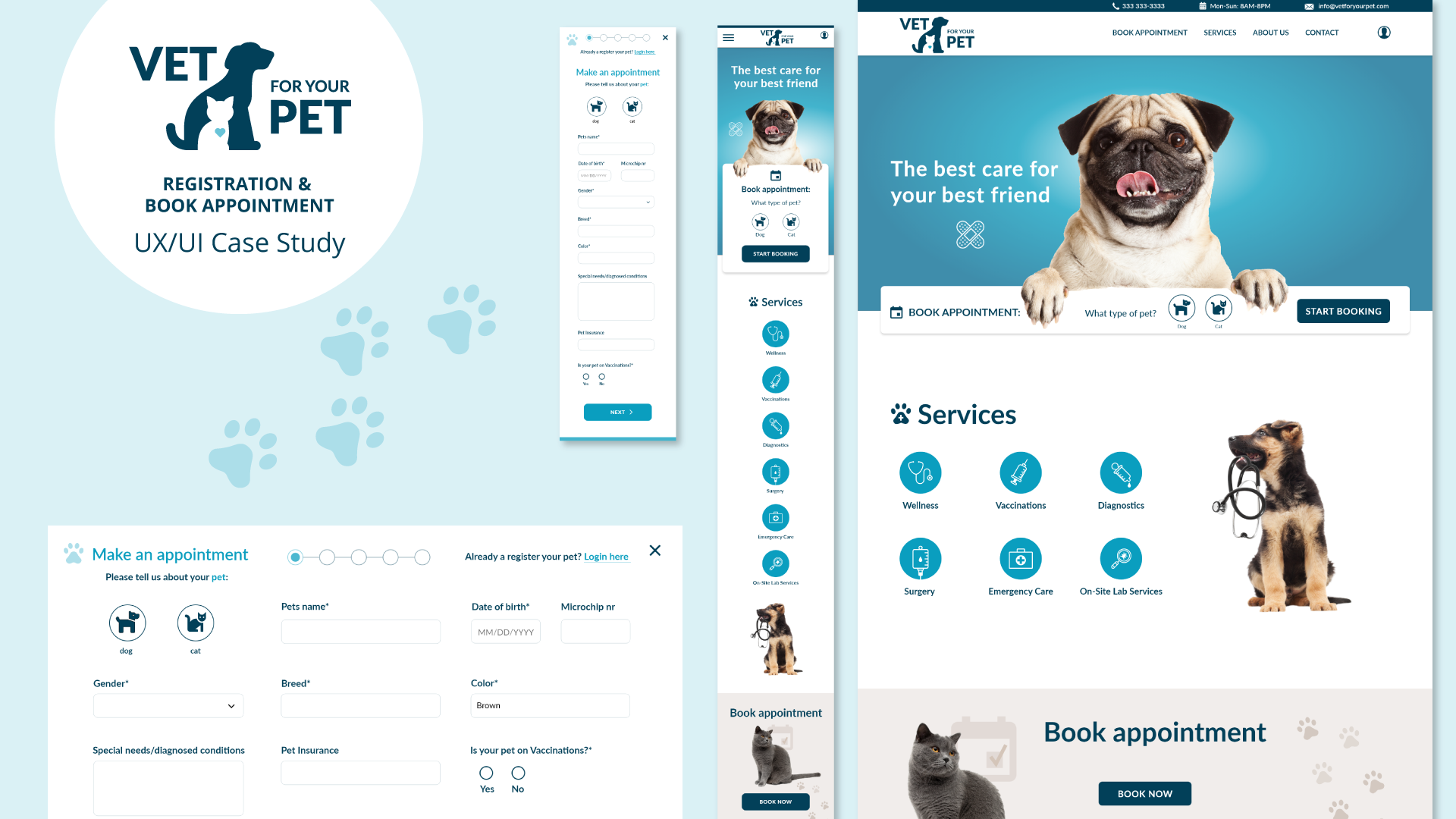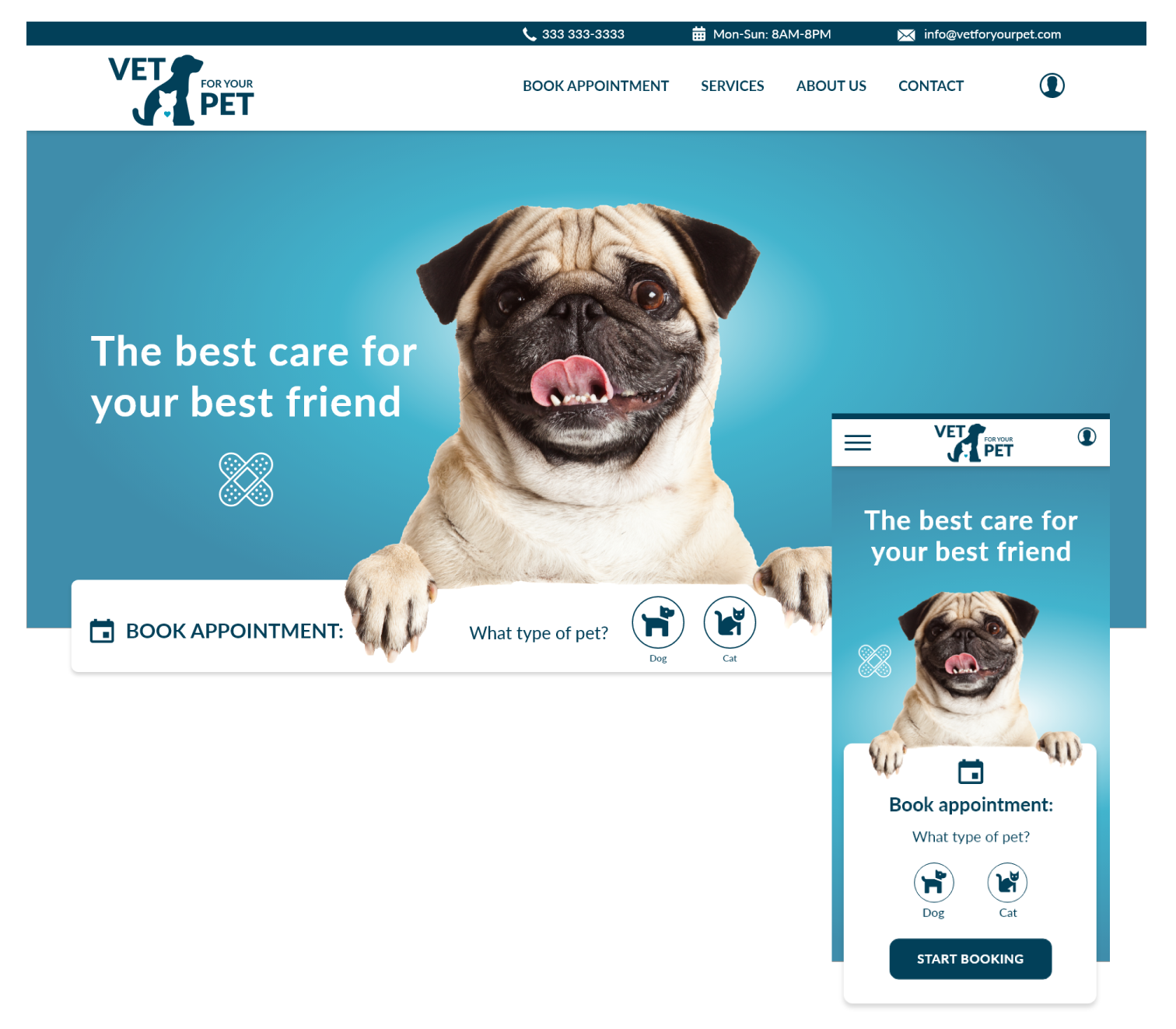 The product:
Vet for your pet focus on offering both routine and emergency pet care for cats and dogs in Delray Beach and the surrounding areas. The vet clinic provides premium vet care at an affordable price. They target users with busy lifestyles and therefore offers convenient extended hours from 8 am to 8 pm 7 days a week.
Project duration:
January 2023 to March 2023
My role:
UX designer leading the Vet for your Pet website design.
My responsibilities:
Conducting interviews, paper and digital wireframing, low and high-fidelity prototyping, conducting usability studies, accounting for accessibility, and iterating on designs and responsive design.
Tools:
Adobe Xd, Photoshop and Illustrator.
Vet clinic websites have confusing registration and booking of vet appointments and you still have to fill out more paperwork by download it yourself or fill it out in the vet office while you want to focus your time on your pet.
Design a website that is user friendly for Vet for your Pet by providing clear registration and booking online without having to fill out extra paperwork in the vet office, so the user can focus on their pet.
UnderstandING the User
User research, empathy map, persona, site map and user pain points
User research pain points

Online Registration
Users get frustrated when they can't register and schedule a vet appointment online.

Check-in
Users gets frustrated when they have to fill out more paperwork in the vet office after already register their pet online and would like to focus all their time on their pet in a stressful situation.

Wait Time
Users and their pets get stressed out while waiting on their appointment in the vet office.
After researching direct and indirect competitors to Vet for your Pet the biggest gap was lack of option to register your pet online. The users have to download and bring in the registration papers after booking the appointment or fill it out in the vet office with 3 out of 3 competitors. Opportunity to standout from the competitors is to have all of the registration and booking available online without any extra paperwork.


–
Have to download registration form
–
Buttons color have low contrast
–
Alt text missing on images

–
Have to download registration form
–
No brand identity
–
Have to download app before booking

– Have to download registration form
– Can only request an appointment not book it
– Website looks unprofessional visually
STARTING THE DESIGN
Wireframes, low-fidelity prototype & high-fidelity prototype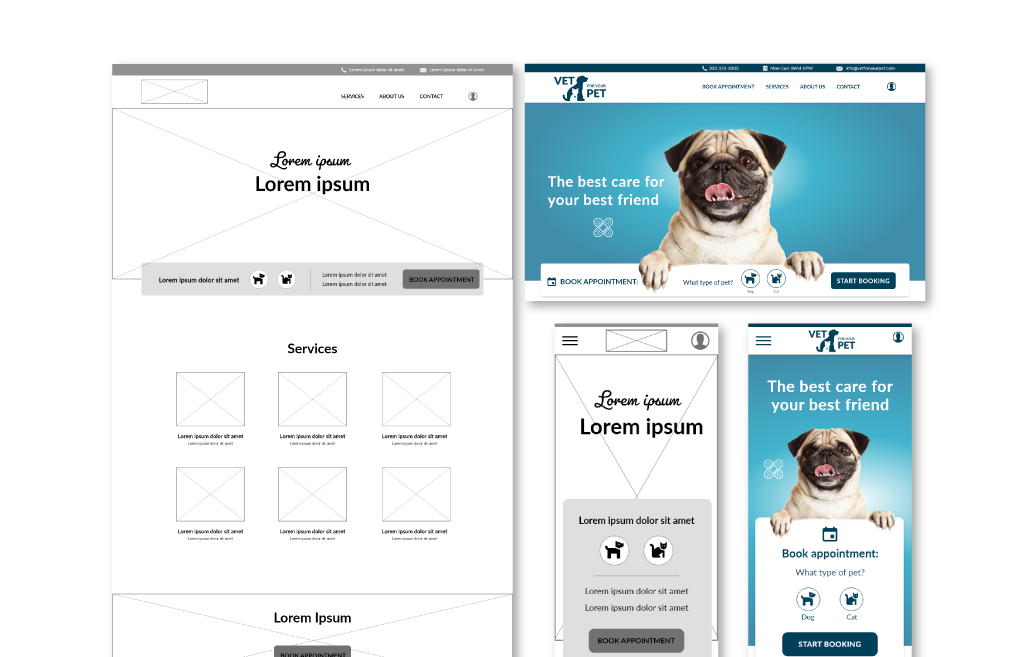 Digital Wireframes – screen size variations
Moving from paper to digital wireframes made it easy to understand how the redesign could help address user pain points and improve the user experience. Prioritizing useful button locations to book appointment and visual element placement on the home page was key part of my strategy.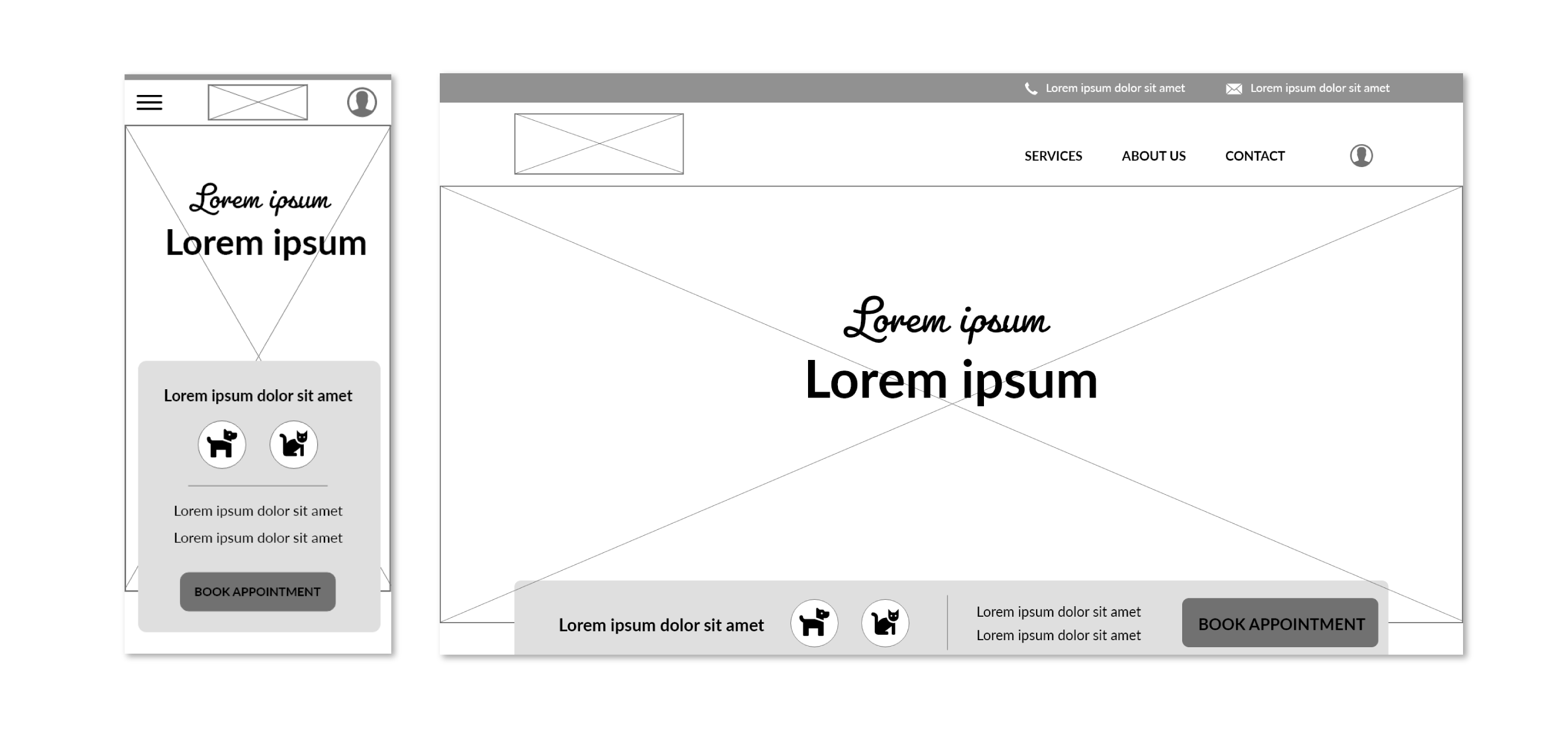 To create a low-fidelity prototype, I connected all of the screens involved in the primary user flow to register a pet, add contact information, book a vet appointment and confirmation of the booking. At this point, I had received feedback on my designs from members of my team, about things like selecting an appointment. I made sure to listen to their feedback, and I implemented several suggestions in places that addressed user pain points.

Round findings
Hard to read time selection in the booking in mobile version.
My hi-fi prototype followed the same user flow as the lo-fi prototype, and included the design changes made after the usability study, as well as several changes suggested by members of my team.
I included considerations for additional screen sizes in my mockups based on my earlier wireframes. I felt it was important to optimize the booking experience for the different size variations for smoothest experience possible.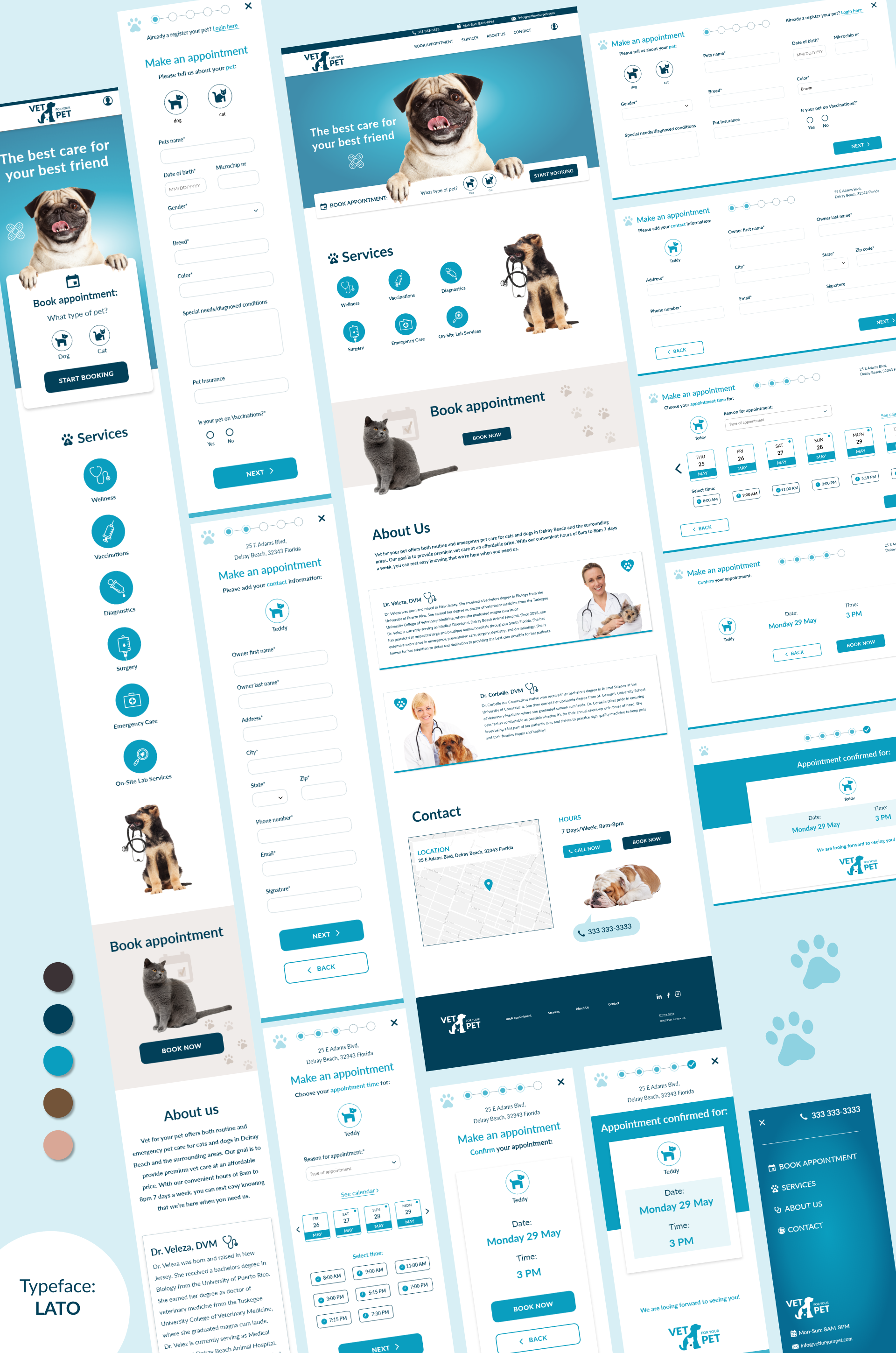 Accessibility considerations:

Headings with different sizes were
added for clear visual hierarchy

Alt text where added to the images for
smooth screen readers access
Test Vet for your pet website
Impact:
The target users shared that the booking and registration has clear visual hierarchy, easy to use and is visually appealing.
What I learned:
Even a small change can have a big impact on the user experience. The most important takeaway is to always focus on the real needs of the users when coming up with design ideas and solutions.
 © 2023 Nina Horten Designs | All rights reserved.